Gun Girl Training est.2019
~CPL & CCW Classes
~Beginner Pistol Classes
~Fundamentals Are Key Classes
Part 1 and 2
~Co-Ed Training. Everyone Welcome.
Details on CPL Classes in Grand Rapids:
Dates: Dates vary: see available dates
Time: All classes run from 8am – 5pm
Where: Kent County Conservation League
Who: Anyone looking to obtain their CPL certification required by the State of Michigan
What: CPL classroom and range time
Cost: $125 – Lunch is included!
Successful completion of this class gives you the certification needed to apply for a Concealed Carry Permit (CPL/CCW), in the State of Michigan. Please note: CPL/CCW classes are Co-Ed. Everyone Welcome.
Pre-payment is required when using the Registration link below. Reserve your spot today! If you'd like to make other payment arrangements, please email [email protected] or call 616-970- 6795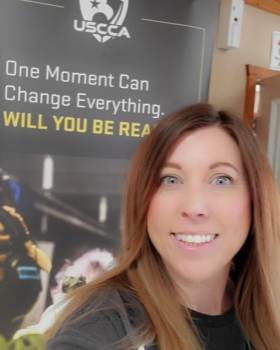 Hi 🙂 I'm Angela aka Gun Girl. My training is not just for women. It's for anyone who wants to gain a better understand of guns. If you have any questions regarding my training, please reach out. I'm here to help.
Concealed Carry and Home Defense Fundamentals
This comprehensive course is ideal for anyone considering owning or carrying a firearm for self-defense.
The course is a complete guide to understanding conflict avoidance and situational awareness for home security and home defense.
You will learn self-defense firearm basics plus shooting fundamentals.
We'll also cover the legal aspects of using deadly force, violent encounters and knowing what to do in their aftermath.
A complete guide on gear, gadgets, and ongoing training.
Why Should You Get Your CPL?
1. To protect yourself and loved ones.
Truthfully, there is so much more than one simple answer to this question. At the heart of it is usually self defense. That piece of mind.  We can not achieve true peace of mind without knowledge.  That's why I believe this class is for everyone who wants better knowledge of how to stay safe, when they are allowed to use self defense (with any weapon, not just a gun) and what could happen after.
~If you never plan to get your CPL but have a gun in your home (even if it's not your gun), this class is for you.
~If you are looking for ease of transport with your gun to and from the range, this class is for you.
~Want to borrow a friends gun for some range day fun? This class is for you.
~Want to keep a loved ones gun safe while they are in the away or at the hospital? This class is for you.
~Want to travel with your gun across state lines? This class is for you.
How to Load and Unload a Glock 19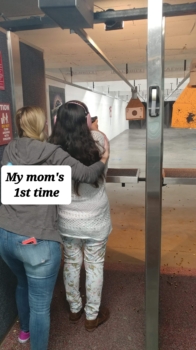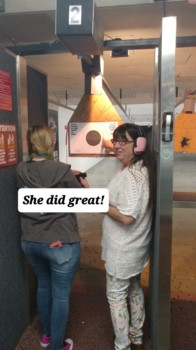 ~Happenstance~
I was not a trainer in these pics. I was just a girl who wanted to show her (very scared of guns) Mom how to shoot. I asked her to go on mother's day. Little did I know, this is the day everything would change. As I watched my mom go from scared to excited with my guidance, I had a gentleman come over and ask me to help him. As we left the range that day I knew this was something I HAD to do. And so it began. All because of this day.


Want to learn and understand gun laws for any state in the USA? Click the link below to get your FREE Concealed Carry Reciprocity and Gun Laws Map for more life-saving knowledge
Concealed Carry & Home Defense Fundamentals –
Certified Instructor
Marksmanship Simplified:
Foundations of Handgun Coaching
Why the Black Cat?
It's a spirit animal thing…
When a black cat appears as your spirit animal, it's time to let your personal form of magic shine.
If a black cat is your totem animal, you believe life's risks are good medicine and worth taking.
Invoke black cats as your power animal when you need to believe you are worthy.